Discussion Starter
·
#1
·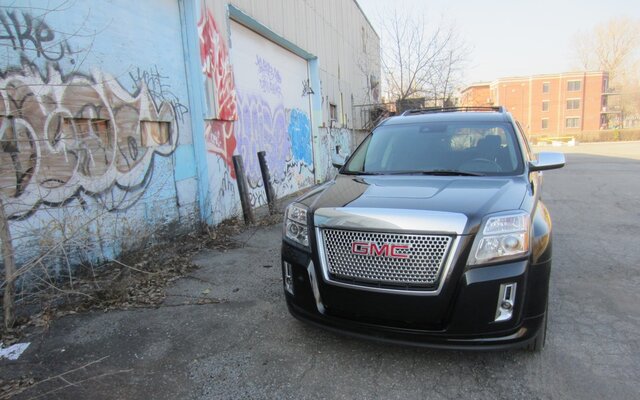 Variety, thy name is SUV. In a market niche that seems to have something for almost everyone – sporty trucks, colossal tow rigs, wagon-like family crossovers – it should come as no surprise that GMC has been able to create a unique compact sport-utility vehicle that delivers old-fashioned luxury in a very modern package. The 2013 GMC Terrain Denali is a straightforward proposition: classy exterior design, a healthy dose of interior amenities, and good power from a relatively frugal drivetrain. That it makes no high performance pretensions is what helps to set the Terrain Denali apart from its premium brethren and makes it well worth investigating for families who need more than what a mid-size sedan can offer them in terms of versatility.
Right Angles Abound
The 2013 GMC Terrain Denali is the top-tier edition of the compact SUV, and as such it features a number of styling affectations that are in keeping with other members of the Denali family. Most noticeable is the imposing chrome grille, but a revised front fascia and different headlights than the standard Terrain also contribute to the vehicle's positive first impression. The Terrain Denali is attractive in a rugged kind of way, all chunky angles and bulging fenders in place of sinewy curves.
Inside, the Terrain Denali presents a roomy cabin where passengers both front and rear enjoy more than enough space to stretch out and enjoy the ride. This is especially true in the second row, where the sliding leather seat affords ample space for long legs (at the expensive of a little cargo room, when used). We were pleased to see GMC using the new Intellilink system that is slowly spreading across the General Motors portfolio, as the high resolution display that is the centerpiece of this feature is in a class of its own. Connectivity and the navigation system in the Terrain were excellent, although we were let down by the low quality feel of the buttons surrounding it. Light, chintzy plastic turned us off every time we pushed a stereo or heater control surface, and compared to the rest of the Terrain's cabin materials they really took some of the luster off of the vehicle's premium status. Also knocking the Denali trim down a peg was the lack of dual automatic climate control, a startling omission for such an expensive SUV.
New Engine Adds Confidence To Terrain
The biggest addition to the 2013 version of the GMC Terrain Denali is its fresh 3.6-liter V6. Capable of putting out 301 horsepower and 272 lb-ft of torque, the unit still delivers up to 8.1 l/100 km while significantly improving acceleration and passing power. Although tipping into the Terrain's throttle didn't throw us back in our seats, we appreciated the enhanced capabilities of the more modern mill, which worked well with the six-speed automatic transmission that is standard with the SUV. Our test vehicle also came with all-wheel drive, which we didn't have much cause to experiment with during our dry week with the vehicle, but we are certain that it will prove a boon once the winter weather arrives in force.
Perhaps the most impressive aspect of the GMC Terrain Denali's driving experience is just how smooth it feels in almost every situation. The Terrain's steering was well-weighted, and the SUV responded to our inputs without a moment's hesitation, tracking flat through the corners and keeping occupants coddled and happy at all times. The Denali's comfort-tuned suspension system – also upgraded for 2013 – is a commendable effort from GMC engineers, and its ability to provide real-world performance without sacrificing ride quality is what we would like to see more of in the SUV segment.
A Legitimate Sedan Replacement
Many who are considering the move from sedan to SUV are concerned about having to deal with a larger platform that is more difficult to drive and not nearly as capable of insulating them from bumps in the road. The 2013 GMC Terrain Denali manages to counter both of these fears, featuring handling that is on par with a larger car and a suspension system that counts comfort as job one. The fact that it looks good while doing it, and also comes with a powerful V-6 engine, is a bonus. The copious amounts of passenger and cargo space inside the Terrain Denali, combined with its complement of premium features, gives it a leg-up on traditional sedans for families seeking a daily drive that is at home both picking up a load of planters and fertilizer at Home Depot as well as cruising down the highway on an extended road trip.
EVALUATION
Test model : 2013 GMC Terrain
Trim level : Denali
Base price : N/A
Price as tested : $45,765
Warranty (basic) : N/A
Warranty (powertrain) : N/A
Options : V6 engine All-wheel drive
Competitive models : Chevrolet Equinox, Ford Escape, Honda CR-V, Hyundai Tucson, Jeep Liberty, Mitsubishi Outlander, Subaru Forester, Suzuki Grand Vitara, Toyota RAV4, Volkswagen Tiguan
Strong points : Intellilink system
Handsome styling
Strong V6 engine
Good handling
Comfortable and quiet interior
Weak points : Where's the dual automatic climate control?
Cheap-feeling plastic buttons
EDITOR'S RATING
Fuel consumption : 3.5/5 Not the most frugal SUV on the lot, but much more power than last year without a concomitant increase in fuel consumption.
Value for price : 3.5/5 The Denali is missing some key features at its price point.
Styling : 4.5/5 A very attractive SUV.
Comfort : 4.5/5 No faults in the Denali's driving experience or level of passenger comfort.
Performance : 4/5 Commendable acceleration and good handling are Terrain Denali trademarks.
Overall : 4/5 An excellent SUV effort from G